---

All 750 seats to the Senate
Turnout

0.21
 
First party
Second party
Third party
 
Leader
Calventia Regina
Caius Julius Angelicanus
Caius Felix
Party
FD
Fraternitas
FP
Seats won

Seat change
11
5
23
Percentage
21.51 %
21.17 %
19.25 %

---

 
Fourth party
Fifth party
Sixth party
 
Leader
Silvanus Marcius
Xena Sicula
Party
PN
IM
LA
Seats won

Seat change
3
14
10
Percentage
15.75 %
12.75 %
9.46 %
---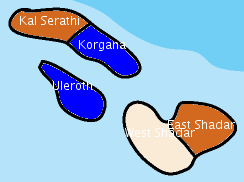 ---
Consul before election


Caius Julius Angelicanus
Fraternitas

Consul after election


Caeparia Milonia
FD

Early elections were called by Factio Proteetorate, Partis Nationalisti and Factio Democratica, after the allegation that "no Government could be formed".
74,815,802 citizens were called to cast their votes. There was a participation of 88.0% (65,835,198 votes).
Factio Proteetorate, one of the parties that called for new elections, was the most injured one, falling from the first position it had achieved to just the third one. Factio Democratica and Fraternitas both raised one position, while Partis Nationalisti saw the biggest increase in the amount of voters. In Marea recovered some seats after the big fall in the 4223 elections.
Party
Votes
%
Variation
Seats
Variation
Factio Democratica
14,189,347
21.51
1.39
162
11
Fraternitas - Populares Hosiani
13,964,402
21.17
0.59
160
5
Factio Proteetorate
12,697,392
19.25
0.87
145
23
Partis Nationalisti
10,389,962
15.75
4.62
117
3
In Marea - Civis Sinistram
8,411,298
12.75
1.95
95
14
Liberum Arbitrium
6,240,258
9.46
1.33
71
10
ciaran201 Party
42,899
0.07
New
0
New
Populares
37,478
0.06
0.01
0
=
Factio Democratica wins