Artanian Defense Group
Artanische Verteidigungsgruppe
Type
Societas Artaniae
Industry
Defense and defense services
Founded
3900, Dorvik
Headquarters
Wasse am Kas, Haldor
Area served
Worldwide
Key people
Sigismund Bahnsen (CEO)
Employees
110,100 (3960)
The Artanian Defense Group (Dundorfian: Artanische Verteidigungsgruppe) is a multinational defense corporation founded by members of the Artanian Union in order to promote a common defense industry. The project was originally bought into by Rutania and Ibutho, both countries have contracted with the ADG since its foundation in 3900 by former members of the Dorvish defense industry. ADG, since its foundation, has been dominated by Dorvish business men and women. The Dorvish government owns the largest stake in ADG with 20%, with the Rutanian government owning 10% and Ibutho owning 7%.
The Department of Macroeconomic Policies and Economic Cooperation, which supervises the Artanian Central Bank and the Artanian Infrastructure Investment Bank, announced that companies throughout Artanian would be permitted to become Societas Artaniae and operate underneath Artanian Union corporate laws to provide easier access to purchasing and investment into the company. The primary factories of the company are based out of Dorvik itself, while each country has offices located within the respective capital of each nation. The headquarters of the entire corporation is located in the Wasse am Kas, Haldor, Kordusia in Dorvik.
In January 4260 the Dorvish Ministry of Defense combined with the Ministry of Trade and Industry made a bid for the Rutanian, now Hawu Mumenhes and Dundorfian portions of the ADG and succeeded, Dorvik increased their ADG share from 20% to 42%.
Union Hawk (Based on the Euro Hawk) (Primarily developed by Dorvik due to technical assistance with Zardugal)
Munitions
Edit
Storm Hammer (Based on the Storm Shadow CM) (Joint venture between Luthori and Dorvik)
KEPD 350 (Based on the Taurus KEPD 350) (Joint venture between Dundorf and Dorvik)
Member countries (as of 4260)
Edit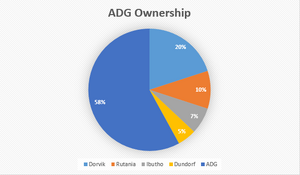 Ad blocker interference detected!
Wikia is a free-to-use site that makes money from advertising. We have a modified experience for viewers using ad blockers

Wikia is not accessible if you've made further modifications. Remove the custom ad blocker rule(s) and the page will load as expected.