Candidate for Environment and Tourism for the Sir Digby Chicken Ceaser Party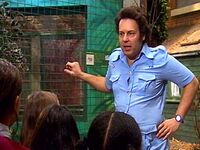 Bob Fossil is the ill-tempered and slightly odd manager of the Zooniverse and zoo owner Dixon Bainbridge's right-hand man. He is loud, brash, American, chubby and possibly retarded. He is Howard and Vince's enemy, often trying to set them up for disaster, although on occasion he has expressed a (perhaps subconscious) attraction to both of them. He generally dislikes both of them (although he is sometimes friendly to Vince). Fossil has a desperate crush on Bainbridge, and declares that he is very interested in getting involved in Bainbridge's "shady operations." Bainbridge often pushes Fossil roughly aside or knees him in the groin, but Fossil claims this is something they do all the time and it's a way of showing affection. On at least one occasion, Fossil and Bainbridge apparently got drunk and drove around beating up midgets.
Fossil is very, very stupid, doesn't know how to dial a phone, and calls a portable tape recorder his "talk box". He is often very childlike and emotional, and when confronted with something disturbing (such as a mysteriously floating cup, or a cage full of mutants) he will shriek horribly. Though Fossil is chief zoo keeper, he knows nothing about animals. He is unable to identify the animals he supposedly cares for at the zoo, even the relatively easy ones, such as the elephant (which he calls "the grey leg-face man"). Fossil also had a traumatic childhood which involved his mother hiding in a bunker at breakfast while throwing eggs at him. He says into his "talk box", "Note to self: I hate whites." Fossil looks caucasian, although we don't know for certain that he is. (It is quite possible that his idiocy has caused him to be confused about his own ethnicity.) Fossil has his own theme song for the zoo: "Happy happy zoo zoo, for him and her and me and you!"
He is currently the presenter of "The Pie Face Showcase" TV music programme. In this appearance he makes a joke about his wife, although it is unclear if he actually has a wife or not.
Fossil does not like cricket, and communicates this through the medium of dance.
Hulstria and Gao-Soto articles
History
Empire of Gao-Soto, Christopher Dove, War of Hulstrian Successsion, Congress of Kien, War of Luthori Succession, Welsh Genocide, New Englian Crisis, Great Sekowian War, Operation Steel Impetus, South Majatran Wars, South Ocean War, War of the Two Kaisers, September Revolution, War for the Emperor's Protection, Hulstro-Kazulian War, Hulstrian Civil War (4304)
Geography
Dovani, Great North Dovani Plain, Schnee-Berge Mountains
Demographics
Gao-Showa, Gao-Showa Clans, Hulstrian, Kunihito, Kunikata, Hulstro-Showans, Hulstro-Mikun, Draddwyr
Culture
National Anthems: Land of our Fathers, The Call of Hulstria, For all eternity, For the Monarchy, The Revolution ne'er can yield, Golden Empire
Religion
Daenism, Hosianism, Jienism, Orinco Polytheism, Kamism
Administrative Divisions
Empire of Hulstria: Budenlar: Labsburg | Hulstria: Kien | Kuratha: Marchau
Empire of Gao-Soto: Hilgar: Miyako, Veilchen | Mitrania: Graaffsberg, Mitrania Highlands National Park | Ostland
Politics
Historically Important Parties: Anarchitarians, Aneist Unionist Party, Christian Communist Party, Hosianisch-Demokratisches Verbund, Fascist Authority Party, Gao-Showa Peoples' Party, Hulstrian National Party, Imperial Hulstrian Party, Progressive Liberal Party of Hulstria, Refuge Pressure Party | List of Former Parties of Greater Hulstria
Presently Active Parties: Hosianisch-Demokratisches Verbund, Vereinigte Bund
Monarchy
Monarchs: Alexander I, Franz I, Franz VI, Ferdinand I, Ferdinand II, Godric I, Godric II, Godric III, Heinrich I, Heinrich II, Karl III, Klaus Gustav III, Klaus Gustav IV, Klemens II, Leopold I, Maximilian V, Maximilian VII, Rainer IV, Rainer V, Rudolph I of Hulstria, Rudolph III, Rudolph IV, Rudolph V, Klaus Gustav VI, Okatori Takahiro, Okatori Kurosawa
Other Royalty: Heinrich, Crown Prince of Hulstria, Archduke Otto of Hulstria, Archduke Franz of Hulstria, Archduke Maximilian, Archduke Albert of Hulstria, Archduchess Harriet of Hulstria, Archduke Heinrich, Archduchess Aleksandra, Queen of Rutania, Archduke Leopold, Archduchess Charlotte, Adela I of Vorona, Hikaru I of Dolgaria, Archduchess Josephine, Archduchess Martha, Idda, Countess of Savonia, Wilhelm, Duke of Thague, Roberta Lusk, Princess Harriet of Talmoria, Henrietta, Queen of Endralon, Janne II of Vorona, Matilda, Queen of Rilandor, Karl, Crown Prince of Hulstria, Henry, King of Tukarali, Henry I of Tukarali, Constantine I of Tukarali, Archduchess Cristyne, Archduke Rudolph, Archduke Paul, Emmanuel, 4th Duke of Heidelberg
Primary Noble Houses: House of Flieder, Okatori Clan, House of Strauss, House of Rothingren
Palaces: Fliederbrunn Palace, Phönixstein Castle
People
Gao Showa: Meiji Hideaki, Meiji Takara, Tokugawa Ieyasu, Tokuro Tanemoto, Naoki Tsukuda, Akemi Tanemoto-Katsutoshi, Tokugawa Jiang, Gao-Ri Juro, Haruhi Suzumiya, Hayato Tarou, Okatori Takahiro, Okatori Kurosawa
Hulstrian: Kyril von Flieder, Lanzo Henning, Konrad Labsburg, Otto von Labsburg, Rudolph Labsburg, Rebekka Liese, Heindrich Strauss, Konsort Strauss, Philip Strauss, Rosaline Strauss, Karl van Gessel, Spenzer Roderick, Erwin Zilberschlag, Wolfgang Reinhardt, Hildegard Klay, Edmund von Greifstein, Martin Valle, Gregory Kleinman, Anders Raske, David Thorsten, Lukas Adenauer, Friedrich Ewald II, Ambrose Bauer, Constantin Birnbacher, Maggie Bauer-Chamberlain, Erik Chamberlain, Charles Fuerstien, Waldemar von Treuburg, Wenzeslaus von Hortensiengau, Erik Bauer-Chamberlain II, Sieuwerd Cuijpers, Adam Hammond, Frederick von Labsburg, Gereon von Thannhausenand, Julius von Anderinch, Joseph Karcher, Edward Roderick III, Isolde von Smaragdwald, Anthony Bauer-Chamberlain, Kasimir Hoefler, Hieronymus von Büren, Joseph Roderick II, Jurgen Marquering, Arnold Bauer-Chamberlain, Erik Bauer-Chamberlain III Gisela von Hortensiengau, August Kratzenberg, Theresia von Maringhelm, Walburga von Strauss, Maximilian Berleburg, Walter von der Hyde, Vitus von der Mar, Eduard von Strauss, Russell von Korneuschlag, Thomas Michels
Other: Charlotte Church, George Huws, Katherine Jenkins, Wali Thomas