Bundesversammlung
(lut. National Assembly) is a unicameral, constitutional and legislative body at the federal level in
Dorvik
. National Assembly was established by the 4164 constitutional reform as a single-chamber parliament in proclaimed Federal Republic of Dorvik. It is the historical successor to the earlier State Council (dun. Staatsrat). It's meeting place is House of the Assembly (dun. Versammlungshaus) in Haldor. It consists of 505 Members of the Assembly (dun. Mitgleider des Bundesversammlunges) usually elected every four years by all adult Dorvikians. Members of the Assembly are elected in multi-seat electoral districts. Term of the Assembly may be shortened by the vote of no confidence towards the Federal Cabinet or after the President or members of the Assembly call early elections. The termination of the parliament's term ends the term of the incumbent President of Dorvik.
President of the National Assembly (dun. Prasident der Dorvischen Bundesversammliunges) presides over sessions of the Bundesverammlung. The President of the NA is elected during the constituent session of each election period after the Federal elections or in a later session, if the office has fallen vacant. Usually, accordingly to one of the parliamentary customs, the President of NA is a member of the largest parliamentary group. Members of the National Assembly can issue a vote of no confidence towards the president of NA. The President of the Bundesversammlung usually has several deputies who are supplied by other parliamentary groups.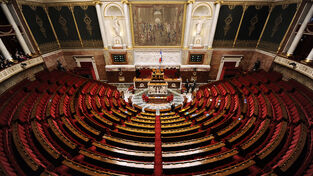 Although most legislation is initiated by the executive branch, the Bundesversammlung considers the legislative function its most important responsibility, concentrating much of its energy on assessing and amending the government's legislative program. The committees (see below) play a prominent role in this process. Plenary sessions provide a forum for members to engage in public debate on legislative issues before them, but they tend to be well attended only when significant legislation is being considered.
Ad blocker interference detected!
Wikia is a free-to-use site that makes money from advertising. We have a modified experience for viewers using ad blockers

Wikia is not accessible if you've made further modifications. Remove the custom ad blocker rule(s) and the page will load as expected.