The Grand National Party (Gao. Gurande Kokuritsu Koutou; Fr. Partie Nationale Grande; Abbr. GNP) was a liberal conservative political party in Sekowo.
The party was headquartered in Kasmenai, Hasowar. It had offices in most major cities and all states.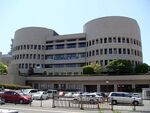 Foundation & Reformation
Edit
In October 2690, Hideki Shinchi founded the Grand National Party in Sekowo. The party existed until February 2695 when the party disbanded due to the mass creation of frivolous parties and a low amount of support. After five years away, the party returned in the Summer of 2700 under the leadership of Franklin Checketts.
Offices Held
Edit
Figures in the Movement
Edit
Chairmen
Edit
Vice Chairmen
Edit
Cabinet Candidates/Area Advisers
Edit
Head of Government: Richard Thorne
Foreign Affairs: Iwasawa Kyota
Internal Affairs: Hildegard Klay
Finance: Hirofumi Kenichi
Defense: Onoda Ken
Justice: Hironaka Kokichi
Infrastructure & Transport: Fukushima Shigeki
Health & Social Services: Ota Kazuo
Education & Culture: Hamada Yoju
Science & Technology: Yamamoto Shozo
Food & Agriculture: Arne Solberg
Environment & Tourism: Kitigawa Yosuke
Trade & Industry: Katherine Tenden
Party Legislation
Edit
See List Here: List of GNP Legislation
Electoral History
Edit
Main Article: Electoral History of the Grand National Party
External Links
Edit
Ad blocker interference detected!
Wikia is a free-to-use site that makes money from advertising. We have a modified experience for viewers using ad blockers

Wikia is not accessible if you've made further modifications. Remove the custom ad blocker rule(s) and the page will load as expected.