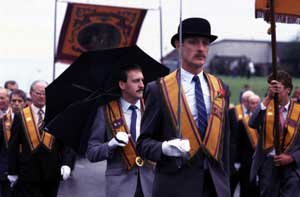 The Grand Orange Lodge of Kirlawa is the autonomous Grand Lodge that organises the Orange Order in Kirlawa. The Orange Order, is a Protestant fraternal organisation, with branches throughout Terra. It is estimated that the Orange Order has a membership of roughly 40,000 in Kirlawa, split into nearly 200 Lodges. The Grand Orange Lodge acts as the governing body of the organisation in the nation.
Members are required to be Protestant with a belief in the Trinity, which excludes Unitarians and certain other Christian denominations and all non-Christians.[19] Most jurisdictions require both the spouse and parents of potential applicants to be Protestant, although the Grand Lodge can be appealed to make exceptions for converts. Members of the Order face the threat of expulsion for attending any Catholic religious ceremonies. The "Laws and Constitutions of the Loyal Orange Institution of Kirlawa", 1986 state: "No ex-Roman Catholic will be admitted into the Institution unless he is a Communicant in a Protestant Church for a reasonable period."
The Orange Lodges in Kirlawa have largely become affiliated with the Reformed Political Party, a Protestant party that has some support within the nation. An undisclosed number of RPP elected officials are members, and it is widely thought that the Order has control over the internal workings of the RPP, although the governing Congress of the Party has not admitted this fact, yet.
Ad blocker interference detected!
Wikia is a free-to-use site that makes money from advertising. We have a modified experience for viewers using ad blockers

Wikia is not accessible if you've made further modifications. Remove the custom ad blocker rule(s) and the page will load as expected.