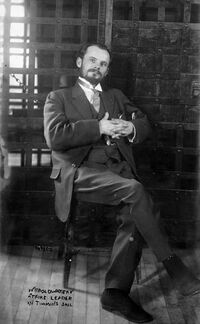 Gustav Petroleum otherwise known as Chairman Petroleum (16th April 2187 - 4th February 2248) was the first and only Chairman of the AM Socialist Solidarity Movement and an important individual in leftist thought in Keymon.
Petroleum was instrumental in founding the AMSSM, having previously been a coordinator for the PPF, and was given the role of Chairman of the party. He held this role until his assassination in 2248 which subsequently led to the collapse of the party.
He has become almost a martyr for the left of the nation and in 2255 various members of the AMSSM formed the Gustav Petroleum Memorial List which would later merge to form the Axis Mundi Zen Collective.
He was married and had two sons one of which, Alexander Petroleum, later went on to become Internal Affairs Spokesperson for the AMZC.