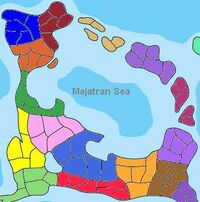 The Majatran Sea is a marginal sea of the South Ocean. It borders almost all nations within the continent of Majatra, which it derives its name from. Although it does not have a natural border with any other body of water, the Grand Canal in Vanuku connects it to the Red Bass Ocean.
Etymology
Edit
The various names given to the Majatran Sea can be seen in the table below.
Geography
Edit
The Majatran Sea is surrounded by the Majatran archipelago and mainland. As a result, almost all Majatran nations have coastline which borders the sea. Specifically: Pontesi, Selucia, Cildania, Al'Badara, Kafuristan, Kalopia, Deltaria, Jelbania, Vanuku and Barmenistan.
Ad blocker interference detected!
Wikia is a free-to-use site that makes money from advertising. We have a modified experience for viewers using ad blockers

Wikia is not accessible if you've made further modifications. Remove the custom ad blocker rule(s) and the page will load as expected.