Maximilian VII

Emperor of Hulstria

Grand Duke of Sisula

Great Prince of Trigunia

Biography

Father
Klaus Gustav IV of Hulstria
Mother
Janne II of Vorona
Spouse
Idda, Countess of Savonia
Issue
Titles and Styles

HIM the Emperor of Hulstria
HRH the Grand Duke of Sisula
HRH the Great Prince of Trigunia
HRM the King of Pulond
HRH the Prince of Vorona

Date of Birth
September 13th, 2830
Date of Death
January 28th, 2918
Imperial Dynasty
Rothingren-Traugott
His Imperial and Most Illustrious Lutheran Majesty, Maximilian VII, Defender of the Faith, by the Grace of God, Emperor of Hulstria, His Royal Higness Great Prince of Trigunia, His Royal Highness Grand Duke of Sisula (b. September 13th, 2830, Fliederbrunn Palace, Kien, Greater Hulstria- d. January 28th, 2918, Imperial Military Hospital, Kien, Greater Hulstria) was the reigning monarch of Greater Hulstria, Grand Duchy of Sisula, and Great Prince of Trigunia from 2892 to 2906. Maximilian VII of Hulstria was first child and son of Klaus Gustav IV of Hulstria and Janne II of Vorona; Maxmilian's paternal grandparents were Godric II of Hulstria and Roberta Lusk, Viscountess of Ayelsbury and his maternal grandparents were Konrad I of Vorona and Vicountess Cecilia Gorsky. Maximilian VII of Hulstria was older brother to Adela I of Vorona, who served as the monarch of Vorona from 2984 to 2908. Maximilian VII, as a descendant of Louis III of Solentia and Leopold II of Central Macon, was in the line of succession to the Solentian and Macon thrones, among others. Following the death of his father, Klaus Gustav IV, in May of 2892, then Crown Prince Maximilian, on per with the Imperial Writ on the regulation of the line of succession to the Hulstrian throne, ascended to the throne as Maximilian VII of Hulstria. The Emperor of Hulstria was married to Idda, Countess of Savonia, of the House of Valonen and the imperial couple had three children; Ferdinand II of Hulstria, Archduke Leopold, and Archduchess Charlotte. The Emperor had eight grandchildren; two through his second son Leopold, Archdukes Alexander and Frederick, three from his first son Ferdinand, Archduckes Rainer, Heinrich, and Maximilian, and three from his third child and daughter Charlotte, Archdukes Klemens, Konrad, and Archduchess Anne.
Under his reign, Hulstria saw expansion of its colonial Empire as well as new relations with several other monarchies on Terra and the restoration of the Great Princedom of Trigunia by the House of Mashkov. The House of Rothingren-Traugott saw expanded relations with the House of Fortenohfiv, House of Hemmingway, the House of Santiago, and the International Monarchist League as well. Maximilian's alliances with these royal families resulted in several of his issues marrying Hemmingway and Santiago royals. Unfortunately, Kaiser Maximilian had to abdicate his thrones due to a diagnosis of a rare and life threatening disease to his son, then Crown Prince Ferdinand in 2903. However, Maximilian VII would live on remarkably for another decade though was very disabled in his activities and weak. Despite this the former Emperor acted as an adviser to his son, now the Emperor of Hulstria. While Maximilian did live on for longer than the doctors expected, the former Emperor was reported to have had no regrets in abdicating, and passing on power to his won, who would reign for nearly 80 years, the longest monarch in Hulstrianhistory; on January 28th, 2918, at the Imperial Military Hospital in Kien, Maximilian VII died at the age of 88, leaving behind a fruitful legacy.
Early Life
Edit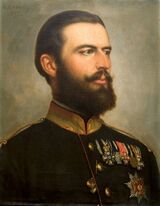 Archduke Maximilian Konrad-Ferdinand, named after Hulstrian Emperors Maximilian VI, Konrad I, and Ferdinand I, was born to Archduke Klaus Gustav of the House of Rothingren-Traugott and Princess Janne of the House of Bavoria on September 13th, 2830, at Fliederbrunn Palace at 7:39pm. Upon his birth and christening, Maximilian was styled as the "Archduke of Hulstria" and was placed in the line of succession to the Hulstrian throne, then third in line. Three years later Maximilian became an older brother after the birth of his sister Archduchess Adela of Hulstria in May of 2833. A year later his uncle, Karl, Crown Prince of Hulstria, tragically died from an gun-related accident at his home in Pfathzburg, igniting both national and international mourning and grief; Maximilian's father, Klaus Gustav, as a result from this death moved up in the line of succession, and became the new Crown Prince of Hulstria as Karl never produced a heir with his wife, Elizabeth Diggory. Archduke Maximilian also moved up in the line of succession, becoming the new second and his younger sister took his place accordingly at third. As a child, Maximilian spent his time both in Greater Hulstria and Vorona, however was much more close to his home country in Greater Hulstria. His grandfather, Godric II of Hulstria, in particular did not like the young Maximilian to stay in Vorona because he didn't want him to be influenced by the absolute monarchy led by Konrad I of Vorona, and that he rather get used to the Hulstrian way of governing under a constitutional monarchy since Maximilian would rule over Hulstria, not Vorona; while the Sovereigns of Hulstria and Vorona, certainly enjoyed a friendly relationship, the two differed on the forms of Monarchy. As a result Maximilian largly resided at Fliederbrunn Palace. Nonetheless, Maximilian traveled with his mother to the island nation, and when his parents would go on foreign trips, they would bring them along; when the Archduke couldn't attend, he was often left with his grandmother, Empress Roberta Lusk, who kept a close eye on him.
At the age of ten Maximilian started boarding school in Hulstria. During the late 2830s and early 2840s, the young Archduke began to undertake formal royal duties on behalf of his grandfather, Godric II of Hulstria. His first State Visit was to the Democratic Kingdom of Tukarali where he met with Queen Gloria I and Henry, King of Tukarali, his cousin. At this State Visit, Queen Gloria gave Godric II the title of the Duke of Nusira Lionta and subsequently, the title of Viscount of Nusira Lionta was given to his father and Maximilian was given the title of Baron of Nusira Lionta. When Archduke Maximilian turned 18, he joined the Imperial Navy and enrolled in the Rudolph Navy Academy in Marchau, named after Rudolph V of Hulstria and was christened by Alexander I of Hulstria in 2810, Maximilian's paternal great-grandfather. By joining the navy, Maximilian followed in his paternal grandfather's footsteps. Godric II, who became the Commander of the Imperial Submarine Fleet during his naval time, was noted to be have thrilled to hear this news and openly supported him his naval career. The Naval Academy proved well for the Archduke as he did very well and graduated with honors.
Following his graduation at the Rudolph Navy Academy, Archduke Maximilian began to serve aboard the HMS Franz VI, an Alpha Phoenix-class submarine as a Lieutenant and swiftly got promoted to Lieutenant Commander. At the age of 26, his paternal grandfather Godric II died at the age of 88 following over 40 years at the thorne, and his father ascended to the Hulstrian throne as Klaus Gustav IV. Maximilian subsequently was given the title of "His Imperial Majesty, Crown Prince of Hulstria", the new heir to the Hulstrian throne; the new Crown Prince took about a month off from his naval duties to attend Godric's funeral and to attend to the family at Fliederbrunn. In the winter of 2856 Maximilian returned to active duty military service and resumed his military responsibilities on the HMS Franz VI. When he was 28 Maximilian served on an aircraft carrier in the Sea of Corina, a territory under the banner of the Hulstrian Empire, where he regularly took part in naval military exercises, and provided security during the construction of the Corina Bridge, a Hulstrian initiative to connect the western and eastern territories of the Empire. In 2860 Maximilian was promoted to the rank of Commander; the Crown Prince would serve for another 2 years in the Imperial Navy, encompassing over a decade of service, until he left it to take up imperial duties on behalf of his father.
Crown Prince of Hulstria
Edit
As the new heir to the throne in Greater Hulstria, as well as in Sisula and Trigunia, Maximilian now had to represent the Monarchy not only in his own home country but abroad. Equiped with the experience of travel due to his time in the Imperial Navy, Maximilian took on comfortably activities overseas, and as a result regular took trips to other constitutional monarchies, even traveling to some Republics as well. Maximilian however remained close to his home country as well, taking regular trips around the Imperial Crownlands. In 2861 the Crown Prince accompanied his father to the Hennersdam Food Fair where it was announced the Monarch, specifically the "Royal Charities Foundation", an organization founded by the late Karl, Crown Prince of Hulstria, would patron a new food bank for Mitrania to offer free food to low-income families and to other charitable or non-profit organisations. Crown Prince Maximilian is a stern advocate for food safety and accessible access to food to all citizens, both within his home country and around the globe. Following the creation of a new food bank in Mitrania, the Crown Prince expanded the Royal Charities Foundation to tackle food issues internationally, notably supplying free food to poorer nations like Dranland and Jelbania.
In 2863 Maximilian, like his father and his paternal grandfather when they held the title of Crown Prince, was appointed as Greater Hulstria's royal representative to the International Monarchist League; the Crown Prince, while maintaining his apolitical status, worked in formal events alongside the Kaiserliche Hulsterreichische Partei who holds a leadership position in the organization. There in the IML he would meet the Grand Duke of Valonen, Osmund II; he would also then eventually met Idda, Countess of Savonia, Osmund's daughter. The two immediately were attracted to one another.
Marriage to Idda von Valonen
Edit
During an banquet hosted by the International Monarchist League, the Crown Prince of Hulstria was seated with Idda; the two, which had met prior, soon following the banquet started dating. Idda then began to accompany the Crown Prince on visits to nations like the Kingdom of Keymon and Rilandor, eliciting popular senitment within the Imperial Court and among the Hulstrian population. The royal house Idda belonged too, the House of Valonen, had encompassed by the Grand Duchy of Valonen for centuries in the Imperial Federation of Sekowo though never held the throne nationally; Emperor Godric II of Hulstria, Maximilian's paternal grandfather, once met Edvard VI of Valonen, Idda's paternal grandfather, when he traveled to Sekowo in one of his many visits. No formal alliance was formed but the two houses knew one another nonetheless. When Idda and Maximilian were dating, relations between the two houses advanced, and the two families set up a formal relationship. Klaus Gustav IV of Hulstria even invited Osmund III of Valonen to Fliederbrunn Palace and held a forum with the Grand Duke. After almost two years of dating, Maximilian proposed to Idda; this was done after Maximilian had got the consent of Osmund III for his daughter's hand in marriage. Klaus Gustav IV also approved the marriage and the gave the couple their full support in their endeavors. In 2866, Maximilian and Idda married in a large wedding ceremony held at the Hulstrian National Cathedral. Many foreign Heads of State and prominent Hulstrian politicans attended the event. Four years later after their marriage in 2870, the couple gave birth to their first child, Archduke Ferdinand, and in the following year the couple gave birth to their second child, Archduke Leopold.
Emperor of Hulstria
Edit
International Influence
Edit
Trigunia Restoration
Edit
In 2903, after some 200 years of the House of Rothingren-Traugott being ousted from the throne of Trigunia due to communist radicals from the Trigunia Worker Party, Maimilian VII became the first Emperor of Hulstria since Heinrich I to sit on the throne of the Great Princedom of Trigunia as Great Prince. While Hulstrian Emperors of the past attempted to retake the throne, Maximilian was the first to see the goal become accomplished; Maximilian's father, Klaus Gustav IV of Hulstria, was almost successful though but didn't in the end accomplish the restoration. This time, it was thanks to the Federalist Party of Trigunia, a conservative monarchist political party that favored the Monarch restoration, who saw through this goal. Led by R. D.D Mashkov, the Federalists were able to successfully achieve power and re-install the constitutional monarchy with Maximilian as the hereditary Head of State. Maximilian was formally crowned as the Great Prince of Trigunia shortly following this at the Bear's Den, the famous Rothingren-Traugott palace. Mashkov was then elected the Viceroy of Trigunia, the elected Head of State of Trigunia, and saw through the domestic government revitalization.
Great Prince of Trigunia
Edit
As Great Prince, Maximilian became the hereditary and ceremonial Head of State while political duties were devolved to the Viceroy and the Federal Assembly. Maximilian, when he was not residing in Trigunia, had his son, Ferdinand, act as the representative of the Monarchy at the Bear's Den. During his first year as Great Prince, Trigunia underwent massive economic and social reform instituted by the Trigunia Federalist Party that sought to heal the wounds created by past regimes.
Abdication
Edit
Imperial Duties
Edit
When Maximilian was the son of the then Crown Prince of Hulstria, Klaus Gustav, Archduke Maximilian usually attended all major royal events with his father and at certain affairs acts as the official representative of the Hulstrian Monarchy. He also attended other special events and foreign trips with his grandfather, former Emperor Godric II of Hulstria. When Maximilian became the Crown Prince in 2856 and his father became Emperor, he immensely increased his responsibilities. During his time as the Crown Prince, he was a very known advocate for food safety and easy access of food for the world population. He helped create a new, large food bank in the Hulstrian Crownland of Mitrania, and used his patron powers to help set up other food banks in poorer nations around Terra. When Maximilian became Emperor of Hulstria in 2892, he continued his efforts on the front. The Emperor is also interested in other issues like education and technology.
Ancestry
Edit
Template:Ahnentafel-compact5
Titles & Styles
Edit
House of Rothingren-Traugott
Alduria
:
Titles

Prince-Royal of Alduria (13 September 2830 - )

Styles
Primary form of address

His Imperial Highness Maximilian, Prince-Royal of Alduria (13 September 2830 - )
Imperial Crownlands of Greater Hulstria
:
Titles

Archduke of Hulstria (13 September 2830 - 24 May 2892)
Crown Prince of Hulstria (24 September 2856 - 24 May 2892)
Emperor of Hulstria (24 May 2892 - )

Styles
Primary form of address

His Imperial Majesty Maximilian, Archduke of Hulstria (13 September 2830 - 24 May 2892)
His Imperial Majesty Maximilian, Crown Prince of Hulstria (24 September 2856 - 24 May 2892)
His Imperial and Most Illustrious Lutheran Majesty Maximilian VII, Emperor of Hulstria (24 May 2892 - )
The Holy Luthori Empire
:
Titles

Prince-Royal of Luthori (13 September 2830 - )

Styles

His Imperial Highness (13 September 2830 - )

Primary form of address

His Imperial Highness Maximilian, Prince-Royal of Luthori (13 September 2830 - )
Grand Duchy of Sisula
:
Titles

Duke of Sisula (13 September 2830 - )
Crown Duke of Sisula (24 September 2856 - 24 May 2892)
Grand Duke of Sisula (24 May 2892 - )

Styles
Primary form of address

His Royal Highness Maximilian, Duke of Sisula (13 September 2830 - 24 September 2856)
His Royal Highness Maximilian, Crown Duke of Sisula (24 September 2856 - )
His Royal Highness Maximilian I, Grand Duke of Sisula (24 May 2892 - )
Principality of Central Macon
:
Titles

Knight of Ayelsbury (13 September 2830 - 24 September 2856)
Baron of Ayelsbury (24 September 2856 - 24 May 2892)
Viscount of Ayelsbury (24 May 2892 - )
Margrave-Royal of Central Macon (23 May 2834 - 24 May 2892)
Prince-Royal of Central Macon (24 May 2892 - )

Styles
Primary form of address

His Royal Highness Maximilian, Knight of Ayelsbury (13 September 2830 - 24 September 2856)
His Royal Highness Maximilian, Baron of Ayelsbury (24 September 2856 - 24 May 2892)
His Royal Highness Maximilian, Viscount of Ayelsbury
His Royal Highness Maximilian, Margrave-Royal of Central Macon (23 May 2834 - 24 May 2892)
His Royal Highness Maximilian, Prince-Royal of Central Macon (24 May 2892 - )
Grand Duchy of Valonen
:
Titles

Count of Savonia (5 May 2866 – Present)

Styles
Primary form of address

His Majesty Maximilian, Count of Savonia (5 May – Present)
The Great Princedom of Trigunia
:
Titles

Prince of Tirgith (13 September 2830 - 24 September 2856)
Hereditary Prince of Tirgith (24 September 2856 - 24 May 2892)
Great Prince of Trigunia (24 May 2892 - )

Styles
Primary form of address

His Royal Highness Maximilian, Prince of Tirgith (13 September 2830 - 24 September 2856)
His Royal Highness Maximilian, Hereditary Prince of Tirgith (24 September 2856 - 24 May 2892)
His Royal Highness Maximilian I, Great Prince of Trigunia (24 May 2892 - )
The Kingdom of Lodamun
:
Titles

Prince of Lodamun (24 May 2892 - )

Styles
Primary form of address

His Royal Highness Maximilian, Prince of Lodamun (24 May 2892 - )
Kingdom of Pulond
:
Titles

Duke of Köflach (August 7th, 2880 - 24 May 2892)
King of Pulond (24 May 2892 - )

Styles
Primary form of address

His Royal Majesty Maximilian, Duke of Köflach (August 7th, 2880 - 24 May 2892)
His Royal Majesty Maximilian I, King of Pulond (24 May 2892 - )
Democratic Kingdom of Tukarali
:
Titles

Baron of Nusira Lionta (12th April 2839 - 24 September 2856)
Viscount of Nusira Lionta (24 September 2856 - 24 May 2892)
Duke of Nusira Lionta (24 May 2892 - )

Styles
Primary form of address

His Royal Highness Maximilian, Baron of Nusira Lionta (12th April 2839 - 24 September 2856)
His Royal Highness Maximilian, Viscount of Nusira Lionta (24 September 2856 - 24 May 2892)
His Royal Highness Maximilian, Duke of Nusira Lionta (24 May 2892 - )
Archduchy of Vorona
:
Titles

Prince of Vorona (12th April 2839 - )

Styles
Primary form of address

His Royal Highness Maximilian, Prince of Vorona (12th April 2839 - )
Full Title: His Imperial and Most Illustrious Lutheran Majesty, Maximilian VII, Defender of the Faith, by the Grace of God, Emperor of Hulstria, His Royal Higness Great Prince of Trigunia, His Royal Highness Grand Duke of Sisula, His Royal Majesty King of Pulond; Lord Protector of the Eastern Territories; King of Mitrania and Budenlar; Sovereign of Greater Chadonya; Grand Duke of Hilgar and Kuratha; Prince of Vorona; Duke of Dalian; Elector of Tinako; Prince-Royal of Alduria; Count of Kremfurt; Prince-Royal of Luthori; Grand Duke of Barovia & Vojnov Pokrik; Count of Savonia; Palatine of Phönix and Flieder; Duke of Marchau, Straussia, and Traugott; Margrave of Hømvejile; Viscount of Ayelsbury; Duke of Chadonia, Lesser Chadonya, and Tirgith; Duke of Garekavmo; Earl of Kane; Duke of Nusira Lionta; Earl of Pulond; Prince-Royal of Adelia, Falristan, Roccato, Kenai, and Lagard; Duke of Reinfeld; Duke of Kathre; Grand Duke of Malchik, & Tirvoslavl; Count of Stary Kautsky; Grand Prince of Vorm; Margrave of New Yodukan, New Luthor, and New Liore; Margrave of Varistad; Grand Duke of Belgae; Margrave of Kildan Olvar, Milrata, and Yulrath; Princely Count of Rothingren, Graaffsberg, and Veilchen; Duke of Franzstadt; Duke of Ziegendorf; Marquess of Mosjkojil; Grand Duke of Thague; Count of Kommenovsk, Morozorota, and Tirvoslavl; Count of Vesterbæk; Prince of Hennersdam and Korriel; Lord of Heinrichgard
Upon the passing of the Act of Imperial Orders in 2831, the Emperor of Hulstria was given the ability to issue imperial decorations or "Orders" to Hulstrians who have served in valor in the defense and protection of the Monarchy and commitment to Hulstrian cultural achievements; in the Act of Imperial Orders also designated Godric II of Hulstria, the monarch during the time of the passage of the bill, and future Hulstrian Emperors as the Head of these Orders:
The Most Illustrious Order of Heinrich I
The Order of the Phoenix
Imperial Service Order
The Most Excellent & Distinguished Order of the Hulstrian Crown
Hulstria and Gao-Soto articles
History
Empire of Gao-Soto, Christopher Dove, War of Hulstrian Successsion, Congress of Kien, War of Luthori Succession, Welsh Genocide, New Englian Crisis, Great Sekowian War, Operation Steel Impetus, South Majatran Wars, South Ocean War, War of the Two Kaisers, September Revolution, War for the Emperor's Protection, Hulstro-Kazulian War, Hulstrian Civil War (4304)
Geography
Dovani, Great North Dovani Plain, Schnee-Berge Mountains
Demographics
Gao-Showa, Gao-Showa Clans, Hulstrian, Kunihito, Kunikata, Hulstro-Showans, Hulstro-Mikun, Draddwyr
Culture
National Anthems: Land of our Fathers, The Call of Hulstria, For all eternity, For the Monarchy, The Revolution ne'er can yield, Golden Empire
Religion
Daenism, Hosianism, Jienism, Orinco Polytheism, Kamism
Administrative Divisions
Empire of Hulstria: Budenlar: Labsburg | Hulstria: Kien | Kuratha: Marchau
Empire of Gao-Soto: Hilgar: Miyako, Veilchen | Mitrania: Graaffsberg, Mitrania Highlands National Park | Ostland
Politics
Historically Important Parties: Anarchitarians, Aneist Unionist Party, Christian Communist Party, Hosianisch-Demokratisches Verbund, Fascist Authority Party, Gao-Showa Peoples' Party, Hulstrian National Party, Imperial Hulstrian Party, Progressive Liberal Party of Hulstria, Refuge Pressure Party | List of Former Parties of Greater Hulstria
Presently Active Parties: Hosianisch-Demokratisches Verbund, Vereinigte Bund
Monarchy
Monarchs: Alexander I, Franz I, Franz VI, Ferdinand I, Ferdinand II, Godric I, Godric II, Godric III, Heinrich I, Heinrich II, Karl III, Klaus Gustav III, Klaus Gustav IV, Klemens II, Leopold I, Maximilian V, Maximilian VII, Rainer IV, Rainer V, Rudolph I of Hulstria, Rudolph III, Rudolph IV, Rudolph V, Klaus Gustav VI, Okatori Takahiro, Okatori Kurosawa
Other Royalty: Heinrich, Crown Prince of Hulstria, Archduke Otto of Hulstria, Archduke Franz of Hulstria, Archduke Maximilian, Archduke Albert of Hulstria, Archduchess Harriet of Hulstria, Archduke Heinrich, Archduchess Aleksandra, Queen of Rutania, Archduke Leopold, Archduchess Charlotte, Adela I of Vorona, Hikaru I of Dolgaria, Archduchess Josephine, Archduchess Martha, Idda, Countess of Savonia, Wilhelm, Duke of Thague, Roberta Lusk, Princess Harriet of Talmoria, Henrietta, Queen of Endralon, Janne II of Vorona, Matilda, Queen of Rilandor, Karl, Crown Prince of Hulstria, Henry, King of Tukarali, Henry I of Tukarali, Constantine I of Tukarali, Archduchess Cristyne, Archduke Rudolph, Archduke Paul, Emmanuel, 4th Duke of Heidelberg
Primary Noble Houses: House of Flieder, Okatori Clan, House of Strauss, House of Rothingren
Palaces: Fliederbrunn Palace, Phönixstein Castle
People
Gao Showa: Meiji Hideaki, Meiji Takara, Tokugawa Ieyasu, Tokuro Tanemoto, Naoki Tsukuda, Akemi Tanemoto-Katsutoshi, Tokugawa Jiang, Gao-Ri Juro, Haruhi Suzumiya, Hayato Tarou, Okatori Takahiro, Okatori Kurosawa
Hulstrian: Kyril von Flieder, Lanzo Henning, Konrad Labsburg, Otto von Labsburg, Rudolph Labsburg, Rebekka Liese, Heindrich Strauss, Konsort Strauss, Philip Strauss, Rosaline Strauss, Karl van Gessel, Spenzer Roderick, Erwin Zilberschlag, Wolfgang Reinhardt, Hildegard Klay, Edmund von Greifstein, Martin Valle, Gregory Kleinman, Anders Raske, David Thorsten, Lukas Adenauer, Friedrich Ewald II, Ambrose Bauer, Constantin Birnbacher, Maggie Bauer-Chamberlain, Erik Chamberlain, Charles Fuerstien, Waldemar von Treuburg, Wenzeslaus von Hortensiengau, Erik Bauer-Chamberlain II, Sieuwerd Cuijpers, Adam Hammond, Frederick von Labsburg, Gereon von Thannhausenand, Julius von Anderinch, Joseph Karcher, Edward Roderick III, Isolde von Smaragdwald, Anthony Bauer-Chamberlain, Kasimir Hoefler, Hieronymus von Büren, Joseph Roderick II, Jurgen Marquering, Arnold Bauer-Chamberlain, Erik Bauer-Chamberlain III Gisela von Hortensiengau, August Kratzenberg, Theresia von Maringhelm, Walburga von Strauss, Maximilian Berleburg, Walter von der Hyde, Vitus von der Mar, Eduard von Strauss, Russell von Korneuschlag, Thomas Michels
Other: Charlotte Church, George Huws, Katherine Jenkins, Wali Thomas