WIP
Confederal Army
Armata Confederală


Flag of the Confederal Army
Founded
2086
Service branches
Confederal Land Army (Armata Armatei Confederale)

Confederal Navy (Marina Plutitoare) Confederal Airforce (Fortele Aeriene Federale)

Headquarters
Cetatea Albă, Tilarnia, Kizenia
Leadership
Commander-in-Chief
Minister of Defence
Minister of Defence
Vincze Márió
General
Valeriu Mitu
Manpower
Military age
18+
Conscription
No, only in wartime
Available for
military service
33.613.000 males, age 18-50 (as of 4227),
32,094,000 females, age 18-50 (as of 4227)
Fit for
military service
28.014.000 males, age 18-50 (as of 4227),
27.293.000 females, age 18-50 (as of 4227)
Reaching military
age annually
593.000 males (as of 4227),
546.000 females (as of 4227)
Active personnel
1,118,000 (ranked Average)
Reserve personnel
550,000
Deployed personnel
0
Expenditures
Budget
.
Percent of GDP
.
Industry
Domestic suppliers
Confederate Defence Group Kizarm
Foreign suppliers
Istalia, Dorvik, Trigunia
Annual imports
classified
Annual exports
~142.000.000 NED
Related articles
History
History of the Confederal Army
Ranks
Ranks of the Confederal Army
Structure
Edit
Confederal Land Army
Edit
Army Command
Edit
General Headquarters in Cetatea Albâ

1st Mechanized Brigade

114th Tank Battalion
2nd Infantry Battalion
495th Infantry Battalion
113th Artillery Battalion
288th Anti-aircraft Artillery Battalion
117th Logistic Battalion

6th Special Operations Brigade

610th Special Operations Battalion
620th Special Operations Battalion
630th Paratroopers Battalion
640th Logistic Battalion

8th Mixed Artillery Brigade

81st LAROM Battalion
83rd Multiple Rocket Launcher Battalion
96th Multiple Rocket Launcher Battalion
84th Data Acquisition Battalion
85th Logistic Battalion

10th Engineer Brigade

3rd Engineer Battalion
52nd Engineer Battalion
72nd Engineer Battalion
136th Engineer Battalion
River Crossing Battalion
110th Logistic Battalion

61st Mixed Anti-aircraft Missiles Regiment

1st Anti-aircraft Missile Battalion
2nd Anti-aircraft Missile Battalion

30th Guard and Protocol Regiment
2nd Logistics Base

22nd Transport Battalion
102nd Maintenance Battalion

313th Reconnaissance Battalion
265th Military Police Battalion
1st CIMIC Battalion
45th Signal Battalion
49th CBRN Battalion
300th Logistic Support Battalion
500th Logistic Support Battalion
2nd Infantry Division
Edit
2nd Infantry Division

2nd Infantry Brigade

20th Infantry Battalion
22nd Infantry Battalion
26th Infantry Battalion
325th Artillery Battalion
205th Anti-aircraft Artillery Battalion
116th Logistic Battalion

2nd Mountain Troops Brigade

21st Mountain Troops Battalion
30th Mountain Troops Battalion
33rd Mountain Troops Battalion
206th Artillery Battalion
228th Anti-aircraft Artillery Battalion
229th Logistic Battalion

9th Mechanized Brigade

912th Tank Battalion
341st Mechanized Infantry Battalion
911th Mechanized Infantry Battalion
345th Artillery Battalion
348th Anti-aircraft Artillery Battalion
168th Logistic Battalion

282nd Mechanized Brigade

284th Tank Battalion
280th Mechanized Infantry Battalion
300th Mechanized Infantry Battalion
285th Artillery Battalion
288th Anti-aircraft Artillery Battalion
469th Logistic Battalion

51st Mixed Artillery Regiment
52nd Mixed Artillery Regiment
53rd Mixed Anti-aircraft Missile Regiment

1st Anti-aircraft Missile Battalion
2nd Anti-aircraft Missile Battalion

3rd Logistics Base

43rd Transport Battalion
83rd Maintenance Battalion

528th Reconnaissance Battalion
96th Engineer Battalion
47th Signal Battalion
202nd CBRN Battalion
200th Logistic Support Battalion
4th Infantry Division
Edit
4th Infantry Division

15th Mechanized Brigade

631st Tank Battalion
151st Infantry Battalion
634th Infantry Battalion
335th Artillery Battalion
635th Anti-aircraft Artillery Battalion
198th Logistic Battalion

18th Infantry Brigade

26th Mountain Troops Battalion
32nd Infantry Battalion
191st Infantry Battalion
183rd Artillery Battalion
184th Anti-aircraft Artillery Battalion
185th Logistic Battalion

61st Mountain Troops Brigade

17th Mountain Troops Battalion
22nd Mountain Troops Battalion
24th Mountain Troops Battalion
385th Artillery Battalion
468th Anti-aircraft Artillery Battalion
435th Logistic Battalion

69th Mixed Artillery Regiment

7th Mortar Battalion
315th Artillery Battalion

50th Anti-aircraft Missile Regiment

1st Anti-aircraft Missile Battalion
2nd Anti-aircraft Missile Battalion

4th Logistics Base

41st Transport Battalion
88th Maintenance Battalion

317th Reconnaissance Battalion
53rd Engineer Battalion
55th Signal Battalion
72nd CBRN Battalion
400th Logistic Support Battalion
Rapid Forces Division
Edit
81st Mechanized Brigade

814th Tank Battalion
811th Infantry Battalion
812th Infantry Battalion
817th Artillery Battalion
3rd Anti-aircraft Artillery Battalion
405th Logistic Battalion
Training Command
Edit
Training Command in Cetatea Albâ

Military Academy
NCO School in
3x Application Schools, each with a training battalion
Military College
Military College
Military College
Military College
Naval Division of Tottori Naval Division of Fluviului
Naval Division of Solbogat
Confederal Airforce
Edit
Equipment
Edit
-CT Pistol: (Main sidearm)
-CP5 Parhon: (Main sub-machine gun) (Special Forces)
-UPA Vlad & Hunyad: (Secondary sub-machine gun) (Special Forces)
-CC4.83: (Main assault rifle)
-EG36 Popescu: (Secondary assault rifle) (Special Forces)
LAR-22: (Main Battle rifle)
Hunyadi CSS-78: (Main machine gun)
-CM250 Akiki: (Secondary Machine gun)
-PM240: (Secondary Machine gun)
-SSR-53C Kamor II: (Main sniper rifle)
-PAR833: (secondary sniper rifle) (Special Forces)
-PM82 Berratt: (secondary sniper rifle)(Special Forces)
-CRPG-8: (Main Anti-tank weapon)
-C9K112 Kuto: (secondary anti-tank weapon)
-Mihai-44:  (Main anti-air missile)
M 1997 Djefry: (M 1988) (Main Mortar)
KK77BW L52: (Main howitzer)
Air Defense
Edit

2k12 Porteşti: (50) (Main Air Defense system)
AA Flak Zyldafold: (30) (Main Anti-Air Artillery)
Vehicles
Edit

KT-86: (1200) (Main battle-tank)
-ET-90: (750) (Secondary battle-tank)
-CMLI-80: (875) (Infantry fighting vehicle)
-VDM: (1350) (Main armoured Personnel carrier)
-APC-70: (200) (Secondary armoured personnel carrier)
-MXT%: (150) (Multipurpose armoured vehicle)
-Delta: (300) (Main transport/utility vehicle)
-ATLV-2:  (225) (Anti-tank launcher vehicle)
Aircraft
Edit

Fighter Aircraft: Edit

-PF-15 Black Pelican: (300) (Main fighter aircraft)
-PF-22 Yellow Pelican: (200) (Secondary fighter aircraft)
Transport Aircraft:
Edit

CTP-10 Ginbar: (200) – (Military transport aircraft)
CSTP-5 Bajing: (75) – (Strategic Transport)
Helicopters:
Edit

CH-330 Puma: (130) - Utility helicopter/gunship/naval helicopter
CH-30 Eagle: (245) - Attack helicopter
Frigates:
Edit

-Dracul Class Frigate: (6) (Main multipurpose Frigate)
-Tiania Class Frigate: (12) (Secondary multipurpose Frigate)
Destroyers:
Edit

-Kuzaki Class Destroyer: (6) (Guided Missle Destroyers)
-APS-19 Class Destroyer: (12) (Guided Missle Destroyers)
Cruisers:
Edit

Whale Class Cruiser: (6)
Submarines:
Edit

-Shark Class Submarine: (12) (Main Conventional submarine)
Corvettes:
Edit

-Admiral Mlavic Class Corvette: (5) (Main Multipurpose Corvettes)
-Zyldav Class Corvette: (4) (Main Missile Corvettes)
Landing Ships:
Edit

-Nest Class Landing Ship: (12) (Main Landing craft)
-Eagle Class Landing Craft: (24) (Secondary Landing craft)
Patrol boats:
Edit

-Tilarnia Class Patrol Boat: (45) (Main Patrol Boat)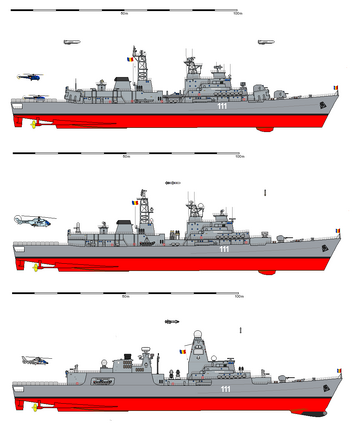 Aliances
Edit
New Endralon/Kizenian is a member of the following aliances:
Kerisian Defensive Aliance (KEDA)
Brahms Accord
Northern Council Treaty Organisation (NOCTO)
New Endralon/Kizenia also has aliances with the following countries:
Ad blocker interference detected!
Wikia is a free-to-use site that makes money from advertising. We have a modified experience for viewers using ad blockers

Wikia is not accessible if you've made further modifications. Remove the custom ad blocker rule(s) and the page will load as expected.