Theta ARC/KRC
Edit
Towards the end of the 22nd century, a group of Scientologists sailed to an uncharted area of Dranland and formed a land base for their intended expansion into the country. In only a short time the group had grown at a rapid rate and the philosophy of Scientology spread swiftly across the area. For many years, Scientology continued its rapid growth across Dranland and, for a time, history records that almost 1 in 3 Dranians were active Scientologists.
The movement was not without its opposition, however. A handful of political parties actively attempted to suppress the growth and practice of Scientology and utilised the growing restlessness within the Welsh-Dranian slums to spread propaganda among the poorer communities with larger criminal activity. [1] This strategic campaign succeeded in fueling great hostility and violence against Scientologists and attacks against Church properties in Scientia were common-place during one dark period in Dranland's history.
Succeeding in freeing literally millions of the minds of Dranian citizens, and raising society to a more competent and ethical level, Scientology continued its rapid expansion despite growing backlash.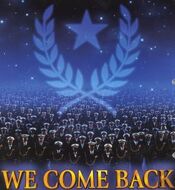 At the peak of its growth, however, the powerful political offshoot
Theta ARC/KRC
vanished from Dranland during the Opening Ceremony of the Dranian Olympics in 2230.
[2]
Rumours grew of abductions, of government conspiracies, of assassination plots against the leading political figures of Scientology. Whilst no records exist, however, to substantiate any one of these theories, Theta's disappearance marked a turning-point in Dranian history, where right-wing governments and psychiatric philosophies were free to push for power once again.
[3]
New Theta
Edit
The dawn of the 24th century saw the forming of New Theta, a neo-Scientological political group of mysterious origin. As the Seldonist psychiatric philosophy began to sweep across Dranland, forced upon its citizens as a means of psychopolitical control, a new and yet familiar force arose to oppose this new threat against individual liberty. [4]
The current leader of New Theta is Catherine Bell.