TQ Group

Type
Caizu
Founded
4198
Founder
Tang Wu

Qi Zedong

Headquarters
Tian'an, Indrala
Industry
Conglomerate
Products
Optical lenses, synthetic diamonds, telecom, financial services, insurance, electronics, food and beverages
Services
Banking, retail, hospitality, telecommunication software, commodity trading, real estate development
Owner
Tang Family (52.8%)


Qi Family (18.6%)

Employees
309,900
Subsidiaries
TiqiTalk, TQ Bank, BÖNNING Car Factory (6%)
TQ Group, formerly the Tang-Qi Group, is a multinational caizu conglomerate holding company headquarted in Indrala. It comprises numerous affiliated businesses, most of them united under the TQ brand, and is one of the largest conglomerates in Indrala (behind Xiandai Group).
TQ Group began as a humble trading company in Mudanwan, Min in 4198, and quickly grew to become one of the nation's largest companies, expanding to sectors including hospitality, real-estate development, consumer electronics, app development, finance. Following the government's financial sector de-regulations, 820,000+ customers have opened banking accounts with the new TQ Bank, accepting deposits of nearly $354m INS in the first three days. Part of this is due to TQ's ability to utilize Tiqi Corp, the TQ-owned provider of the country's most widely used digital messenger platform TiqiTalk. TQ Bank has enabled account opening via the app – without visiting a bank branch – using a mobile phone number and an ID.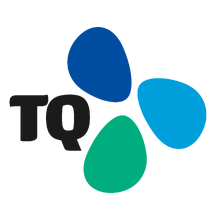 Operating subsidiaries Edit
Company
Sector
Ownership %
Value
Notes
TiqiTalk
Social Media and Internet
100%
~$7.4 Billion
Indrala's largest instant messaging platform used by 93% of Indralan smartphone users.
TQ Bank
Insurance and Finance
100%
TQ Electronics
Consumer Electronics,

Semiconductors and Household Appliances

88.9%
~$204 Billion
TQ Culture and Entertainment
Music, television and film production
100%
~$5.1 Billion
Often referred to as TQ C&E.
TQ Trading
Trading company
100%
Focuses on trading industrial commodities such as chemicals, steel, and natural resources.
TQ Hospitality
Hotels, resorts and spas
90%
TQ Cinemas
Cinemas
89.8%
TQ Construction and Land Solutions
Construction, architecture and building materials
100%
Often referred to as TQ C&LS
TQ World
Amusement Park
84.4%
Indrala's largest amusement park, located in Kaizhou, Jiaozhi
TQ Assurance
Insurance
100%
TQ Food
Food products, confectionery
100%
Huzhengjiu
Alcoholic beverages, liquor
94.6%
Notable Minor holdings Edit
References Edit